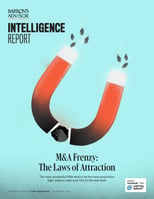 Barron's Advisor Report
Part 1: Optimizing Growth and Scale
About
Registered Independent Advisory (RIA) firms are combining at a furious and unprecedented rate. As industry consolidation gains momentum, Barron's Wealth & Asset Management group analyzed data on how 42 elite RIA firms are navigating through this environment of great change.
We compiled our findings into our new Intelligence Report: M&A Frenzy: The Laws of Attraction. Fill out the form to receive a free copy of this report.
In this two-part webinar series, Matthew Barthel, Executive Editor, Wealth & Asset Management, Barron's Group is joined by Barron's Advisor coaching partner, Ray Sclafani, CEO and Founder of ClientWise, to take a deep dive into the findings of our latest research report. Together, they'll uncover the data trends we're seeing among the best RIA firms and what those changes mean for the industry overall.
In Part 1 of this series, explore what asset growth and staffing looks like amidst the rapid consolidation:
Can your firm grow too quickly, and what happens if you do?

Organic vs. M&A — how can you be intentional about your growth?
How can you evaluate and evolve organizational structure on the fly?